SJVLS Libraries Join the Palace Project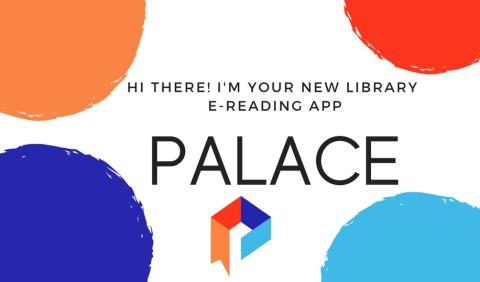 The San Joaquin Valley Library System is pleased to announce our member libraries have joined the eBooks for All California initiative, a free, shared statewide collection of eBooks and eAudiobooks created in partnership between the California State Library and the Black Gold Cooperative Library System. SJVLS patrons can access the shared collection plus their local library's eBook and eAudiobook collections from a single app – The Palace Project App. The statewide collection currently features more than 30,000 titles, many of them allow simultaneous use, and more titles will be added over time.
SJVLS is in the final stages of setting up access. We will post an update when you will be able to login to the app and start finding new titles. Read on for more information about the initiative and how to download the Palace App.
eBooks for All Californians
A recent study on eBook spending per capita revealed that California ranks 39th in the U.S. The number of eBooks available to California residents varied drastically depending on where they lived. Libraries with larger budgets were able to offer more titles, while smaller libraries could not offer the same selection.
The eBooks for All initiative aims to make eBooks and eAudiobooks more accessible to all Californians. The State Library has committed $1.25 million in LSTA funding to support grants to purchase eBooks and eAudiobooks for the shared collection. This investment will give all Californians access to more eBooks and eAudiobooks, especially residents in rural and disadvantaged areas.
What is the Palace Project?
The Palace Project is an e-reading app and eBook marketplace. The Palace App combines a library's eBook and eAudiobook collections from different platforms – like CloudLibrary and Libby – with the shared California collection in a single app to make it easier to find your next great read. The Palace Marketplace is a non-profit marketplace for libraries that offers titles from all the major vendors, including Amazon Publishing and Audible titles. You read that right. Soon you will be able to save Audible credits by finding titles through the Palace App.
Where can the app be downloaded?
The Palace Project App supports both iOS and Android devices and can be downloaded from the Apple App Store or Google Play Store. The app works on the latest version of both operating systems, and the two previous versions. Unfortunately, Amazon Kindle devices are not supported at this time.
We are excited about Palace's expanded access to eBooks and eAudiobooks. We can't wait to hear what you think about it, and to see where the library palace will take you!
"This project was supported in whole or in part by the U.S. Institute of Museum and Library Services under the provisions of the Library Services and Technology Act, administered in California by the State Librarian."